Subwoofer
X-ray sub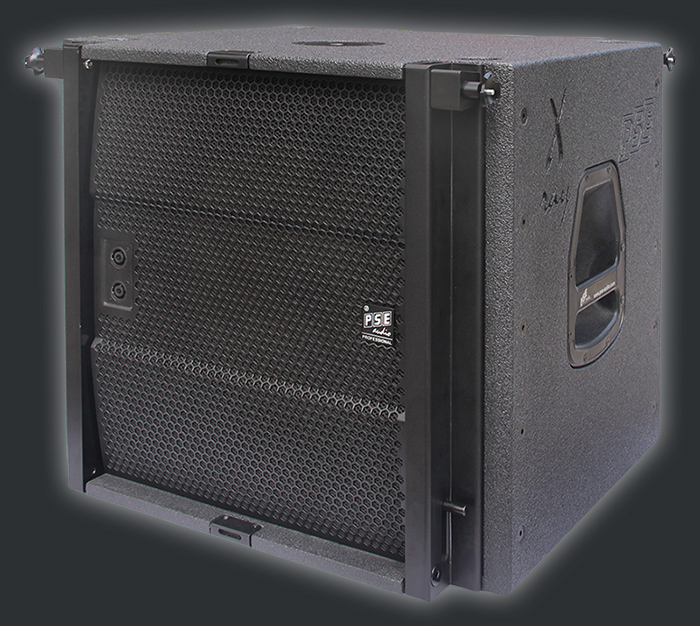 Features X-ray sub
15" neodymium speaker (4"/100mm voice coil)

Kevlar™ cone

bass reflex design

rigging (flying) hardware integrated

M20 pole mount plate

2 Neutrik speakon 4-pin

bass link function

perforated steel front grill powder coated

acoustic fabric behind front grill

4 x rubber feet

stackable

plywood wood housing

polyurea (PU) high scratch proof coating

optional regular painting black or white



The X-ray sub is the low-mid extension for the X-ray 8 Line Array. The X-ray sub is equipped with a compatible flying hardware to X-ray 8.
Additional to the two front hanging rails the X-ray sub has another two mirrored hanging rails on the rear side. This provides the option to hang or stack the X-ray subs in the module of forward and 180° inverse backward for cardioid applications.
The two parallel 4-pin speakon sockets on the front fulfill the easy connection for cardioid purpose. Unified with the X-ray 8, the X-ray sub adopts a newly developed Kevlar™ cone transducer as well.
The advantage of Kevlar™ cone, a paramid synthetic fiber material, is referred in detail in the DM of the X-ray 8. The high tech 15" transducer is designed with neodymium magnet to minimize the weight. The X-ray sub can also be used as a compact powerful subwoofer together with regular satellite speaker cabinets. As a woofer of satellite system it is equipped with a M20 pole mount plate.
Wie die X-ray 8 auch ist der X-ray sub mit einem neu entwickelten Lautsprecher mit Kevlar®-Membran bestückt. Die Vorteile dieses para-aramiden Synthetikfasermaterials als Lautsprechermaterial wurden schon bei der X-ray 8 ausführlich erläutert.
Der X–ray sub kann auch wenn er mal nicht in Verbindung mit dem X-ray 8 Line Array benötigt wird als kleiner leistungsfähiger Bass zusammen mit herkömmlichen Tops eigesetzt werden. Im Deckel ist ein M20 Flansch für ein Hochständerrohr serienmäßig verfügbar.
rated impedance (optional)
8Ω (16Ω)
power handling capacity AES/peak*
1000W / 3000W*
available frequency response**
38Hz-250Hz
max. sound pressure level***
132dB
transducer rated size
15"
midrange-transducer voice coil Ø
4" (100mm)
transducer magnet structure
neodymium
transducer cone material
Kevlar™
dimension w/h/d in mm
580/500/550
weight
37,5kg

* peak 10ms, with TD-8000 amplifier and X-ray sub max controller setup
** -10dB with X-ray sub FR controller setup
***1m free field, pink noise, crest factor 10dB, with TD-8000 and X-ray sub SPL controller setup
NOTE: Kevlar is a trade mark of DuPont for para-aramid synthetic fiber