Line Array speaker cabinet
X-ray8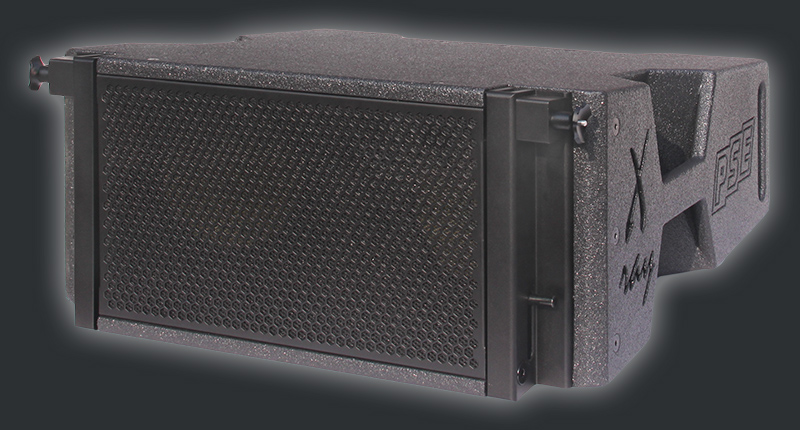 Features X-ray8
2x8" neodymium speaker (2.5"voice coil)

2x8" Kevlar™-cone

1x2.5" (63mm) neodymium compression driver

throat diameter compression driver 1.4"

high frequency planar wave guide horn 1.4"

wave guide horn directivity h110°/v10°

constant horn directivity

passive crossover

curving angles 0°-10° in 1° steps

3-point rigging structure

2 Neutrik speakon 4-pin

speaker signal link function

perforated steel front grill powder coated

acoustic foam 4mm behind front grill

wood housing 15mm and 18mm plywood

polyurea (PU) high scratch proof coating

optional regular painting black or white

Appliance X-ray8
line array unit for mobile and touring PA

line array unit for fix installation

Application X-ray8
live events, live entertainment

stadium broadcasting,

discotheque and mobile disco event

meeting halls broadcast system
extended system components
X-ray sub* Low-Mid extension (1x15")
*with rigging hardware

LB-118 system-subwoofer (1x18")

VB-218 infra-subwoofer (1x18")



The X-ray 8 is a high end Line Array speaker cabinet stunning with the unique functional and pioneering design, reliability, manufacturing quality, robustness and especially brilliant sound performance. The speaker components are complete newly developed in cooperation with a worldwide well known speaker manufacturer.
The newly specially designed powerful components are representing the latest state of the art of speaker technology. Such kind of high tech speakers are not available in the standard product range of the well known speaker manufacturers.
The cone of the 8" transducer is made of Kevlar. The innovative Kevlar cone provides a lot of advantages compared with traditional paper cone. The nature and structure of Kevlar material are 100% constant without aging phenomenon or material fatigue. The Kevlar material enjoys a famous reputation for its gorgeous stability, tearing resistance, as well as hard-wearing against high humidity.
The sound is constant without any distortion even at high sound pressure. For a high power magnetic force the speakers are equipped with a multi cellular neodymium magnet structure. With this technology the magnetic force is optimized and the weight is minimized. A 2.5" voice coil ensures a high power handling capacity and a high sensitivity as well. The high frequency compression driver also adopt neodymium magnet and is equipped with a pure titanium diaphragm to guarantee brilliant and clear sound.
Needless to say the complete design including the integrated rigging system is absolutely unique and sophisticated. The rigging system also sets new standards of dimension and stability to such kind of Line Array category the X-ray 8 is. The housing, the structure, as well as the trendsetting handle make the X-ray 8 easy to handle.
In addition with the professional passive crossover network, the X-ray 8 complex is at the cutting edge of global speaker cabinet technology. A durable varnishing is essential for touring purpose of speaker cabinets.
The standard version of the X-ray 8 is coated with black pure PU (polyurea), the most heavy-duty and durable coating in the worldwide speaker cabinet industry. At special request, the other varnishing and colors are available as well. The EASE Focus Line Array calculator is available with X-ray 8. The X-ray 8 fulfills the highest expectations on workmanship, reliability, robustness, handling design, and last but not least perfect sound quality!

rated impedance (optional)
16Ω (8Ω)
operation mode
passive
power handling capacity AES/peak*
600W / 1800W*
available frequency response**
55Hz-20kHz
max. sound pressure level***
139dB
directivity (h x v)
110°/10°
midrange-transducer rated size
2x8"
midrange-transducer voice coil Ø
2.5" (64mm)
LF-transducer magnet structure
neodymium
LF-transducer cone material
Kevlar
HF-compression driver rated size (VC)
2.5" (63mm)
HF-compression throat diameter
1.4"
HF-compression magnet structure
neodymium
dimension w/h/d in mm
580/268/550
weight
25kg

* peak 10ms, with TD-8000 amplifier and X-ray8 max controller setup
** -10dB with X-ray8 FR controller setup
***1m free field, pink noise, crest factor 10dB, with TD-8000 and X-ray8 SPL controller setup
****system vertical directivity depends on quantity and curving of X-ray8 cabinets
NOTE: Kevlar is a trade mark of DuPont for para-aramid synthetic fiber